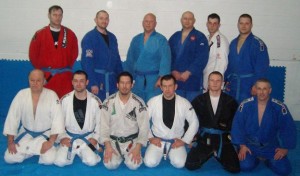 St. John's Brazilian Jiu-Jitsu is an affiliate club with Jeff Joslin of the Alliance Canada team. Jeff is a Black belt under Romero " Jacare" Cavalcanti and also an MMA fighter who made it all the way to the UFC.  Jeff visits our club regularly throughout the year to offer seminars and help guide our continued training.
We are a true martial arts club, we train because we love it and there are no easy rides and quick promotions. The belts will come but not before the hard work. If your looking for a great environment to train in and like to work hard, then this is the place for you.
Schedule:
Monday 7:30-8:30pm
Tuesday 5:30-7:30pm
Wednesday 9:00-10:00pm
Saturday 1:30-3:30pm
For more information please email Mike Samson ms_samson@hotmail.com
See you on the mat!