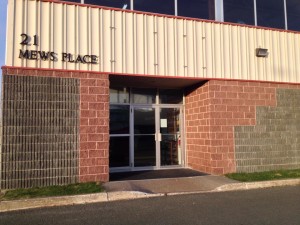 The St. John's Martial Arts Centre is centrally located at 21 Mew's Place (behind Pippy Place).  We are a not-for-profit organization whose mandate is to provide and maintain a first-class training space for the martial arts.  We have a great facility with 50 competition-grade judo tatami mats (about 1000 square feet) permanently installed on a suspended, shock-absorbing floor. The mat space is surrounded by wall padding. This is the best facility in the St. John's metro area, particularly for throwing arts, combining firm and stable footing with a safe landing surface. Our 20 foot ceiling makes the dojo an excellent location for weapons practice.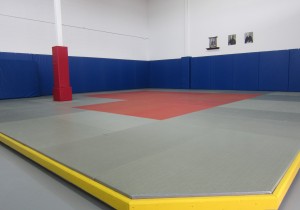 Our facility comes with male and female change rooms and bathrooms.  It is easily accessible from within the city or via the highway.  There is a garage door that can be used to load equipment.  This unique feature allows for cool summer training.  There is plenty of parking, that is also snow cleared during the winter months.
Rental Rates And Requirements
Are you looking at renting space for your dojo?  We offer a competitive rate of $40.00 per hour for prime time slots after 5:00pm on weekdays and all day Saturday and Sunday.  $30.00 per hour for non-prime timeslots prior to 5:00pm weekdays.  We have free time slots available to rent.  Check out our schedule.
Looking at renting space for a seminar or tournament?  We are offering $100.00 for 3 hours and $180.00 for 6 hours.  As well, you get set-up and take-down time for free.  Available times would be after 2:30pm on Saturday and any time Sunday on weekends.  During the week, you can refer to our posted schedule for availablity.
Rental Requirements
Renters must be affiliated with a recognized martial arts / recreation / sports organization.
Proof of current Commercial General Liability Insurance (or equivalent) coverage for the rental activity.
Bare feet or socks and appropriate clothing only, permitted on the mat surface.  No shoes or hard objects permitted.
Rental activities must be supervised at all times by a qualified coach designated by the renter.
Renters are responsible for clean-up of the facility after their activity and/or any damage to the facility.
If you have any questions or wish to rent space, please contact George Beckett at gbeckett@nl.rogers.com or Ivan Booth at ibooth@mun.ca.